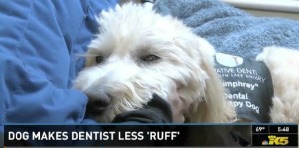 Meet Humphrey. He's a therapy dog. And Humphrey is a permanent fixture at Innovative Dentistry in Seattle, Washington.
Introduced to patients by Dr. Bob Berman, Humphrey has a hand in making Dr. Berman's patients feel comfortable about coming to see the dentist.
Humphrey offers up plenty of hugs and cuddles. He even allows patients to hold his paw while he dozes in his own bed beside the chair.
Dr. Berman reports that "People call and say "I want to come to your office because of your dog". At least two patients-a-day request a visit with Dr. Berman's trusty side-kick Humphrey.
While our patients love us, we certainly know that there is some angst about coming to the dentist. That's why at North York Smile Centre, we offer oral sedation dentistry.
A very common procedure, it's an easy technique and doesn't require any needles. This type of medication helps patients maintain a certain level of consciousness for safety and co-operation during the procedure. But the end result is that most patients don't remember the visit, and feel like they slept through the entire procedure.
One of the real benefits to sedation therapy is that patients feel like 'time flies'. While we might have been working on a patient's mouth for several hours, it feels like just a few minutes to the patient. This has revolutionized complex dental procedures such as smile makeovers, that can now be performed in fewer but longer appointments.
So if you are anxious about the dentist, and truly we understand, ask us about sedation dentistry. Don't let fear and anxiety stop you from undergoing long or complicated dental procedures. You can have and are entitled to the smile that you can be proud of.
Well we don't anticipate needing a Humphrey in our office. But we did a little research and learned that the Canadian Service Dog Foundation does have a number dogs that act as Emotional Support Animals or ESA.
They aren't trained service animals, instead they provide companionship, comfort and emotional support to their owner or in the case of Humphrey place of work. By having an animal designated an ESA, owners may be able to circumvent non-pet regulations in rental accommodations or places of work.
Cats also make ideal ESA companions, particularly the Devon Rex cat, which is extremely social and bonds strongly with it's owner.
Keep up the great work Humphrey!
Dr. Rob Eisen | Dr. Jerry Jesin
For more information on Permanent Teeth-in-a-Day, contact the North York Smile Centre 1-866-365-4807 | 416-907-7997. Or click here to set up an appointment without picking up the phone.
Request a copy of A Patient's Guide to Dental Implants' e-book. Created by Drs. Rob Eisen and Jerry Jesin, this e-book will help you understand the All-on-Four™ process before you come in for a free consultation. Simple and easy to read explanations, diagrams and real case examples will help you understand what our team can achieve for you.