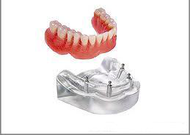 Permanent Teeth-in-a-Day has been described as the ultimate dental implant solution. Using a new innovative technology called All-on-4™, you can have non-removable teeth in just one day.
Prior to the introduction of All-on-4™, technology, patients requiring permanent implants had to suffer uncomfortable and expensive procedures.
First developed in Europe, the All-on-4™ procedure places a complete arch of permanent teeth on four or five titanium implants. The implants are positioned on an angle to make the best use of the bone and serve as a replacement for the root of your teeth.
Having the Permanent Teeth-in-a-Day procedure is not for everyone. Only patients with total tooth loss in either or both the upper and lower part of their mouth are candidates. And, yes, it is possible to have the procedure in only the upper or lower part of your mouth and continue using your removable dentures.
"What's great about Permanent Teeth-in-a Day is that they function just like regular teeth." states Dr. Rob Eisen of North York Smile Centre. "You can eat properly again, almost anything you want and better yet, you brush them just like regular teeth or use a water pik."
Dr. Eisen and his partner Dr. Jerry Jesin have both completed a post-graduate program in Cosmetic Dentistry at the University of Buffalo in 1995 and have been leading cosmetic dentists in the GTA for many years.
In most cases, any required tooth extractions are done on the same day as the procedure. And yes, it all gets done in one day, with perhaps two or three follow up appointments. Having the Permanent Teeth-in-a-Day procedure generally involves less pain and swelling than a conventional surgical approach.
You may be just one day away from living a more confident life!
Dr. Rob Eisen | Dr. Jerry Jesin
For more information on Permanent Teeth-in-a-Day, contact the North York Smile Centre 1-866-365-4807 | 416-907-7997. Or click here to set up an appointment without picking up the phone.
Request a copy of A Patient's Guide to Dental Implants' e-book. Created by Drs. Rob Eisen and Jerry Jesin, this e-book will help you understand the All-on-Four™ process before you come in for a free consultation. Simple and easy to read explanations, diagrams and real case examples will help you understand what our team can achieve for you.