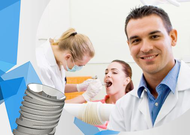 Our team of professionals, takes great care to ensure that each of All-on-Four dental implants that we craft are tailored specifically for each patient, and look beautiful as well as natural. Our professional dental implant team measures, designs and calibrates each protsetic tooth to be sure that they look natural and attractive. Several factors, including measurements, go into creating dental implants.
Be prepared to provide us photo of yourself in your younger years showing not only your smile, but gives us an idea of how the gum line and teeth once lined up. This is one of the key elements a denturist uses when reproducing the new teeth.
A member of the All-on-Four dental implant team takes an outline of your teeth's position in your mouth. Your teeth and jaw should relate to each other, in a structural sense. Your new prothestic teeth need to integrate correctly with the jaw.
We next check your profile, which is often overlooked but an important part of the face we present to the world. To reestablish your profile, the teeth should support the upper lip in a way that gives a person's profile a pleasing appearance.
Natural teeth echo the curve of the upper lip. As such, your new dental implants are designed so that they will also follow that line.
Tooth shape is important. A well-shaped tooth, or teeth, not only look appealing, they also ensure a comfortable bite. Other factors we consider are the teeth's length, their edges and color. The ultimate goal is to ensure that your dental implants match your original teeth.
Do your gums show a lot? Most people don't give it much thought, but as dental professionals we certainly look for it. While most folks show just a bit of their gums when they smile, it's not always the case. Again, we measure and craft implants so that precisely the right amount of gum is visible.
The old adage 'measure twice, cut once' holds true for crafting perfect dental implants. Our ultimate goal is for each patient to feel confident and comfortable in their new smile.
You may be just one day away from living a more confident life!
Dr. Rob Eisen | Dr. Jerry Jesin
For more information on Permanent Teeth-in-a-Day, contact the North York Smile Centre 1-866-365-4807 | 416-907-7997. Or click here to set up an appointment without picking up the phone.
Request a copy of A Patient's Guide to Dental Implants' e-book. Created by Drs. Rob Eisen and Jerry Jesin, this e-book will help you understand the All-on-Four™ process before you come in for a free consultation. Simple and easy to read explanations, diagrams and real case examples will help you understand what our team can achieve for you.