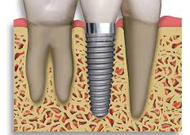 All-on-Four™ Dental implants are a great permanent solution to the many problems faced by traditional denture wearers. But how does the process work?
Placing dental implants in a patient's mouth is a combination of sophisticated engineering and efficient execution.
Implant anchors are positioned in the gum in place of the missing tooth or teeth. Titanium posts, (this metal takes well to grafting), are placed below the gum. A very small portion of the implant exists above the gum, which is what the prosthesis anchors to.
A prosthesis (to hold more than one tooth), similar to but less intrusive than a traditional denture, is crafted to look like regular, healthy teeth. It is permanently affixed to the anchors.
The prosthesis can hold a whole set of upper or lower teeth. Or it can anchor a single tooth, three, four, or however many teeth the individual needs to have replaced. The overall concept is the same. The appliance is held securely on the patient's own gums- a real departure from traditional dentures, which rely on fit or supplemental adhesive to stay put.
After a short period of time, many people get so used to dental implants that they forget the challenges they faced with old-fashioned dentures.
Dental implants look like, or are better than, natural teeth. If the implant is partial, the practitioner will match the implant to the patient's existing natural tooth color, making it nearly impossible to tell one from the other.
All-on-four™, is a permanent dental implant system that uses only four implants to support the entire upper or lower arch. It's a much faster and less invasive procedure and in many cases more cost effective than individual dental implants.
You may be just one day away from living a more confident life!
Dr. Rob Eisen | Dr. Jerry Jesin
For more information on Permanent Teeth-in-a-Day, contact the North York Smile Centre 1-866-365-4807 | 416-907-7997. Or click here to set up an appointment without picking up the phone.
Request a copy of A Patient's Guide to Dental Implants' e-book. Created by Drs. Rob Eisen and Jerry Jesin, this e-book will help you understand the All-on-Four™ process before you come in for a free consultation. Simple and easy to read explanations, diagrams and real case examples will help you understand what our team can achieve for you.