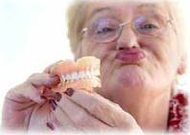 ™While traditional dentures can be a solution for many, they aren't without their share of problems. And common denture complaints run the gambit from less than perfect fit, to just plain over discomfort.
Over the years, our patients have shared that wearing dentures:
is challenging when eating certain foods
they often can't taste what they are eating
slippage is a common complaint
and then of course, a poor fit means they don't have a good bite.
For some patients simply the idea of facing a social situation where their dentures might slip and impede their speech sows seeds of doubt, which in turn undermines their confidence. All this anxiety can lead to avoiding social situations.
And there are those who never quite adjust to the feeling of having the dentures in their mouth. Any one of those challenges is reason enough to investigate alternatives to traditional dentures.
Permanent dental implants can be a saving grace. While the majority of implants involve a single tooth, permanent dental implants replace all of a patient's teeth. There is one dental prosthesis, (an appliance with replacement teeth attached to it) for the upper gum, and another for the lower gum.
These implants do not rest on the gums, rather they are securely held in place on the gums, and they move along with the jaw. This means that any risk of denture sliding and slipping is eliminated. That alone can instil a newfound sense of confidence in the denture wearer.
Dental implant patients report that they feel comfortable to participate in social situations, even meals with others, with the assurance that their implants will not fall out or stray from where they are supposed to be.
Indeed, many people who receive full dental implants report that they are the next best thing to natural teeth. A heartfelt smile and hearty laugh are terrific, and often life changing, things to regain!
You may be just one day away from living a more confident life!
Dr. Rob Eisen | Dr. Jerry Jesin
For more information on Permanent Teeth-in-a-Day, contact the North York Smile Centre 1-866-365-4807 | 416-907-7997. Or click here to set up an appointment without picking up the phone.
Request a copy of A Patient's Guide to Dental Implants' e-book. Created by Drs. Rob Eisen and Jerry Jesin, this e-book will help you understand the All-on-Four™ process before you come in for a free consultation. Simple and easy to read explanations, diagrams and real case examples will help you understand what our team can achieve for you.