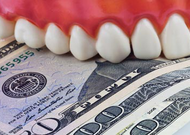 Consider how much work your teeth do on a day in, day out basis. That might sound like an odd thought to ponder, but it relates directly to the investment that you'll be making when you get All-on-Four™ dental implants. We tend to not give our teeth much thought until something goes wrong.
Our teeth perform the task of making food digestible. They also make eating a pleasurable experience! And, they form the basis of a dazzling smile. They do these things countless times each day. Every day, every month, every year. When you break down the dental implant cost into value per day, the perspective changes and you will see the value more clearly.
We understand that this investment is not insubstantial. As such, one of our goals is to help maximize your benefits. We'll be happy to send estimates to your insurance company for their appraisal. Many insurance policies will cover portions of the dental implant cost, particularly x-rays and extractions.
If you've had the misfortune of having dealt with painful or ill-fitting dentures, you're all too aware of physical and emotional costs that they can inflict. The dental implant cost is far more reasonable, when placed in that perspective. It's true that a "solution" that doesn't quite work will only get worse as time passes. Dental implants take into account both short term and long term potentialities.
The All-on-Four™ procedure is a big step, and we understand that potential patients will research alternative procedures. Remember, as you do, to be sure you are comparing apples to apples and that you are considering the following:
Are the long-term benefits equal?
What are the comparative values of each procedure?
Which outcome will provide you the best lifestyle and optimal health?
Ask questions. How long will the procedure last?
What are the potential side effects?
How will the teeth function and look?
Then, do a comparison with All-on-Four™.
The bottom line is that there are so many functions that our teeth perform; from taking in food properly to playing a starring role in a healthy smile, that having well-functioning and beautiful looking teeth is well worth the expenditure you make for All-on-Four implants. Your investment will be returned many times over in satisfaction!
For more information on Permanent Teeth-in-a-Day, contact the North York Smile Centre 1-866-365-4807 | 416-907-7997. Or click here to set up an appointment without picking up the phone.
Request a copy of 'A Patient's Guide to Dental Implants' e-book. Created by Drs. Rob Eisen and Jerry Jesin, this e-book will help you understand the All-on-Four™ process before you come in for a free consultation. Simple and easy to read explanations, diagrams and real case examples will help you understand what our team can achieve for you.