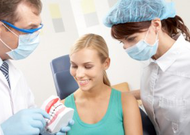 Congratulations, you've taken a big step in contacting our office about the All-on-Four™ Dental Implant Procedure.
It's actually a free consultation and an opportunity for patients to meet our dental implant team, consult directly with the doctor, and gain detailed insight into the All-on-Four procedure.
Let's take a look at a typical first free consultation visit:
You will be introduced to our implant team, each of whom has their own specialty and role in the procedure.
Then it's your turn to advise our dental professional about your current oral health and dental history.
Then comes a quick oral examination when an All-on-Four™ team member examines then the state of your gums and bone, both of which need to be healthy. Good, but not perfect bone density is also necessary. The All-on-Four™ procedure does involve some minor bone grafting. However, people who have lost some bone strength can still be great candidates for All-on-Four™ Dental Implants.
We use the

modern

technology to map every patient's bone structure, and determine exactly where the placements will go. We may require you to have x-rays, dental impressions or other scanning techniques.
The team takes all the time necessary to fully address any concerns or questions you may have about how the procedure works and what to expect. Having a family member during the first consultation, is helpful as is bringing along a set of prepared questions.
At the end of the consultation visit, if you are deemed a good All-on-Four™ Dental Implant candidate, you will be provided with a personalized treatment plan tailored to your individual needs.

The All-on-Four™ team goal is to make sure that you leave the consultation feeling confident in our team of experts, and looking forward to living without traditional dentures.
For more information on Permanent Teeth-in-a-Day, contact the North York Smile Centre 1-866-365-4807 | 416-907-7997. Or click here to set up an appointment without picking up the phone.
Request a copy of 'A Patient's Guide to Dental Implants' e-book. Created by Drs. Rob Eisen and Jerry Jesin, this e-book will help you understand the All-on-Four™ process before you come in for a free consultation. Simple and easy to read explanations, diagrams and real case examples will help you understand what our team can achieve for you.