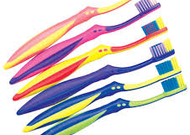 There are few items that are so much a part of our daily lives, yet get less attention than the toothbrush. We use it at least once a day, if not more often, for our own teeth, dentures and ™ dental implants.
And now-a-days choosing a great toothbrush is even more difficult because of the plethora of shapes and sizes to choose from. But after it's purchased the brush usually winds up blending in with the bathroom sink scenery. Even the most mundane items have a story and a history, and that is indeed true of the toothbrush.

Do you know how the toothbrush came to be in its current form? What did ancient peoples do to keep their teeth clean? In the recent Knoji post Interesting Facts and History of the Toothbrush, the blogger seeks to answer those, and other questions about the toothbrush.
Interesting quick facts about toothbrushes:
The average toothbrush loses quite a bit of its effectiveness after about a month. That means we should replace them more frequently than many of us actually do.
The first American toothbrush patent was issued in 1857, and they began to be mass-produced in about 1885.
The Egyptians, too, had toothbrushes of a sort, but theirs were made from twigs and leaves instead of plastic and bristles.

This small dental hygiene instrument has a long history, and is used in many parts of the world today. We had great fun reading the article. Check it out and learn about the extremely practical and very valuable toothbrush.

For more information on Permanent Teeth-in-a-Day, contact the North York Smile Centre 1-866-365-4807 | 416-907-7997. Or click here to set up an appointment without picking up the phone.
Request a copy of 'A Patient's Guide to Dental Implants' e-book. Created by Drs. Rob Eisen and Jerry Jesin, this e-book will help you understand the All-on-Four™ process before you come in for a free consultation. Simple and easy to read explanations, diagrams and real case examples will help you understand what our team can achieve for you.