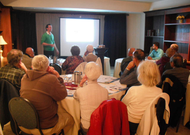 Tired of dentures? Concerned about your poor oral health? Looking for a solution that looks as healthy and natural as regular teeth?

Join Drs. Rob Eisen and Jerry Jesin for a
2-hour seminar on Permanent Teeth-in-a-Day, the ultimate dental solution.
Dr. Rob Eisen and Dr. Jerry Jesin of North York Smile Centre will host an evening seminar on Permanent Teeth-in-a-Day (All-on-Four™), the ultimate solution for denture wearers and those experiencing poor oral health and missing teeth. With All-on-Four™ dental implants, it's like having your healthy, natural teeth restored.
The information seminar will be held Wednesday, October 1, 2014 starting at 6:30PM at the Gold Room, North York Memorial Hall, North York, ON. Seating is limited. Advance reservations are recommended.

All-on-Four dental implants are an affordable process for permanent, non-removable teeth that are fully functional, minimally invasive and completed in one treatment session.
Highly successful in Canada, U.S. and Europe, the All-on-Four Teeth-in-a-Day procedure places a complete arch of permanent teeth on titanium implants. The implants serve as a replacement for the root of a tooth. There is no painful healing period, no large bulky denture rubbing on the gums or covering the roof of the mouth, and best of all, the teeth never leave the mouth.
Teeth-in-a-Day allows patients to regain their quality of life, to feel confident in public situations from eating to smiling to laughing without fear of their dentures falling out, or having to cover up an unattractive smile.
Early dental implant procedures were not only expensive, but often required placement of many individual implants, bone grafting, sinus lifts, and involved long healing and recovery periods. Not only was the procedure painful but had a high failure rate and could take up to 2 years, with unpredictable results.
During this 2-hour complimentary information seminar, Dr. Eisen and Dr. Jesin will explain the All-on-Four dental implant procedure and its many advantages. There will also be an opportunity to chat with others already enjoying Teeth-in-a-Day.
The session is open to everyone and their families. Seating is limited. Reservations can be made by calling the North York Smile Centre 416-800-3160 or by email at:contact@smile-by-design.ca.
Permanent Teeth-in-a-Day | All-on-Four Dental Implants Information Seminar

Wednesday, October 1, 2014 6:30PM
Gold Room, North York Memorial Hall
5110 Yonge St. Steps from North York Civic Centre
and North York Centre Subway

Light refreshments.
To reserve a seat: contact@smile-by-design.ca or phone 416-730-8223