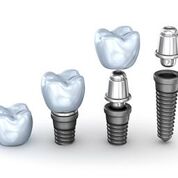 You need a replacement for your natural teeth. Now the question is what sort of replacement is best. Before making a choice, why not compare the options with your dentist? Here are some questions that you will want to ask about all on four dental implants and how they compare to other choices.
How Does This Option Differ From Standard Implants?
Any discussion about what is all on four is bound to raise the question of how this solution differs from individual implants. Instead of inserting single implants into all of the spaces once occupied by your individual teeth, a minimum of four implants are inserted at carefully selected points along the gum. A custom prepared plate that looks like a full set of upper or lower teeth is attached to the four implants. In come cases, the dental expert may recommend adding two or three more implants, depending on the stability of the bone tissue.
Will I Pay More?
The all on four price you end up paying depends on several factors. How many remaining teeth must be extracted before the implants are put in place? Will you need grafts to strengthen the bone first? What materials will be used to create the plate that is attached to the implants?
Generally speaking, expect the up front cost for this solution to be more than a standard set of dentures. Your dentist can provide a close estimate of the cost depending on the amount of advance dental work you need and the materials you choose for the plate.
Is the Process Painful?
Asking if it will hurt is something just about every patient will do. You can expect some discomfort and swelling after the implants are inserted. It will fade quickly and you will begin to get used to the presence of the implants and the attached plate.
One of the reasons why all on four implants are so popular is that patients are not likely to have pain in the years to come. Compared with dentures that can rub against the bum and make them raw, the plate remains firmly in position. That makes the plate all the more comfortable to wear.
How Long Will They Last?
An important all on four advantage is how long the implants and the plate will last. Depending on your age at the time you have them installed, they could last for the rest of your life. Even if you are younger, it's reasonable to expect them to last for as long as three decades. Compare that with dentures that you may need to replace as often as every 7-10 years.
Only you can decide if all on four implants are right for you. Talk with your dentist about this strategy and what it would provide for you. Work together to identify all possible solutions and why a certain one would be best in your case. Taking time to compare this and other options before making a choice will ensure you are happy with the outcome for a long time.