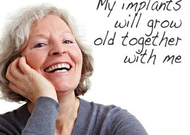 DENTAL IMPLANTS ARE DESIGNED
TO LAST A LIFETIME!

The All-on-Four™ implants are made from super strong titanium, and the teeth in the permanent arch are made from long lasting materials like dental grade porcelain, ceramic or acrylic.
As is the case however, with most dental procedures and medical operations, there are many factors that play a part in its success and longevity.
THE UNKNOWNS -
While preparation is an integral part of the implant procedure, there might be factors that affect the life of the implant, which are simply not possible to know in advance. That includes an individual's genetics and non-apparent health problems. Unknowns also include health issues that arise after the implant.
WHAT WE DO KNOW -
Dental implants, on a large scale, have been preformed since the 1970's - All-on-Four dental implants . Decades of improvement in the procedure and technology behind it have bolstered the success rate of implants. What was once an experimental dental operation, is today a proven and routine procedure.
COMMITTMENT TO HYGIENE -
Poor hygiene can undermine implants. Some natural teeth do not last a lifetime. While each case is different, it's true that the reason people lose teeth is often periodontal disease. And, that quite often caused by lax dental hygiene.
Our dental team will monitor the health of dental implants through regular office visits. But you as a patient should pay close attention to, and follow the dentists' suggestions for proper care of the implant. This is a very important factor in the healthy life of dental implants.
OVERALL HEALTH -
We now know that the human body is complex and interconnected. Just as good dental health affects other parts of a person's body, (heart disease, to name one), general health can play a part in how long dental implants last. Nutrition, since the mouth has a large part to play in what we eat, is an especially important health consideration.
Regular maintenance, good health and proper nutrition all come into play when it comes to how long a dental implant will last. A skilled dentist, along with a patient who is committed to good dental hygiene, can help ensure that the implants do last a lifetime.
For more information on Permanent Teeth-in-a-Day, contact the North York Smile Centre 1-866-365-4807 | 416-907-7997. Or click here to set up an appointment without picking up the phone.
Request a copy of 'A Patient's Guide to Dental Implants' e-book. Created by Drs. Rob Eisen and Jerry Jesin, this e-book will help you understand the All-on-Four™ process before you come in for a free consultation. Simple and easy to read explanations, diagrams and real case examples will help you understand what our team can achieve for you.