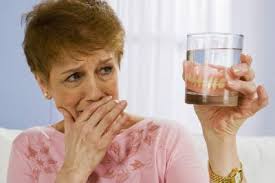 If you hate wearing dentures, then you are only too aware of the challenges of living with dentures. From eating difficulties to irritating mouth sores denture wearing can develop into a social phobia: "Does everyone know I'm wearing dentures?".
If you want a better solution to denture wearing, the All-on-Four™ Dental Implants solution also known as - Permanent Teeth-in-a-Day - might be the perfect the solution for you.
A step beyond a single dental implant, the All-on-Four procedure secures a complete arch of permanent teeth to four or five titanium implants in your upper and lower jaws. The entire procedure is completed in one day with just a few follow up appointments.
There are so many advantages to the Permanent Teeth-in-a-Day.
Many patients have said that regaining their smile and self-confidence was the single motivating factor in having the Teeth-in-a-Day procedure. And once they started smiling again, everything seemed to improve whether they were ready to gun for the new promotion or venture out and find new romance.
Find out how Permanent Teeth-in-a-Day could easily transform your life.
Attend an All-on-Four Dental Implants information seminar hosted by Dr. Rob Eisen and Dr. Jerry Jesin where they will discuss this revolutionary advancement in implant dentistry.
By the end of the two-hour seminar you will have a clear understanding of the options available to you and how All-on-Four dental implants can improve your life.
When you attend this absolutely FREE seminar:
You are NOT obligated to sign anything.
You will have ALL your questions answered.
You'll meet other patients who are considering the Permanent Teeth-in-a-Day procedure.
You'll hear from others already enjoying the procedure and ask them questions.
Don't hesitate to reserve your free seat.
You may be just one day away from living a more confident life!
Contact us today to reserve your place in our next seminar.