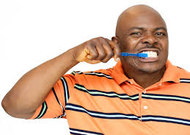 BUT NOTHING BEATS PLAQUE!
Caring for your implants is a lot like taking care of natural teeth. While it's true that the new implant teeth will not get cavities, that doesn't mean you can toss aside your dental health routine.
Periodontal disease can happen even to people with a single dental implant or All-on-Four™- if they don't practice good oral care. Here are some guidelines that you can follow to keep the dental implant in excellent shape.
Brush your teeth twice a day. That probably sounds familiar, as it's the same advice dentists give for natural teeth. While you're not fighting cavities in the teeth, brushing will help stop bacteria from forming on the implants and spreading to the gums.
Floss once a day, for the same reason that you brush. Keeping food particles that can cause bacteria and decay out of your mouth will keep your gums in good shape. Floss can get those out of the way nooks and crannies that brushes simply cannot reach.
Rinse your mouth with an antimicrobial solution. You'll find several of these on the market, and your dental professional can offer specific recommendations. A rinse washes away foodstuffs from the entire inside of your mouth. It covers the teeth, gums, roof, cheeks and lips. Be sure to get a rinse that fights the microbes that can cause periodontal disease.
Consider using a water irrigation system. These small machines are all around oral health helpers. They massage the gums, which keeps the blood circulating and ensures the gums' strength. They shoot water in the tiny spaces between teeth to dislodge food particles. And they help clean your mouth, in general, making it an inhospitable environment for detrimental kinds of bacteria.
Avoid overly hot foods and liquids. The rule of thumb is- if it's too hot to touch with your finger, don't put it in your mouth. You don't want to accidently let very hot items heat up the dental implant tooth, which can lead to damage in the cells that surround it.
Visit your dentist regularly. He or she will want to examine the implants to be sure they're in good shape. And your dentist will check your gums to be sure they are healthy.
A good, solid, daily dental routine along with regular visits to your dentist will ensure the long-term health of your All-on-Four™ dental implants.
For more information on Permanent Teeth-in-a-Day, contact the North York Smile Centre 1-866-365-4807 | 416-907-7997. Or click here to set up an appointment without picking up the phone.
Request a copy of 'A Patient's Guide to Dental Implants' e-book. Created by Drs. Rob Eisen and Jerry Jesin, this e-book will help you understand the All-on-Four™ process before you come in for a free consultation. Simple and easy to read explanations, diagrams and real case examples will help you understand what our team can achieve for you.