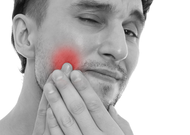 Dentists get a bad rap when it comes to pain. We do our best to make our patients as comfortable as possible and to alleviate discomfort. While no major dental procedure is truly painless, the All-on-Four™ dental implant procedure is the least invasive and least painful way to obtain new teeth.
In previous posts we looked at the steps involved in planning for and getting Permanent-Teeth-In-A-Day. Now we'll consider what happens after the big day has passed and the implants are set in place.
Take a few days off for healing. After your implants are placed you'll need some recovery time. While each of us heals at a different rate, it's better to plan on a longer adjustment time. Who knows- you might be feeling like your "new self" in practically no time at all.
Be aware that medications prescribed by other doctors might increase the chances of bruising. You can check with the prescribing doctor if that does occur.
For a short time after the procedure, eat only soft foods. This will help minimize swelling and let your body concentrate on healing. Don't worry- you'll be enjoying all types of foods with your new teeth before you know it!
Remember to take the medication that we will prescribe to help alleviate discomfort and to minimize swelling.
You'll return for a continuing care visit. Our implant team will check to be sure the dental implants are healing properly, and will be available to answer any questions you might have.
Many of our patients who receive dental implants report that they are back to work just a few days after the procedure. Some say that they have an easier time adjusting to the implants than they did getting used to traditional dentures which might be because of the rubbing and gum irritation that often comes with dentures.
Our dedicated All-on-Four™ team is committed to making your time with us as comfortable as possible.
For more information on Permanent Teeth-in-a-Day, contact the North York Smile Centre 1-866-365-4807 | 416-907-7997. Or click here to set up an appointment without picking up the phone.
Request a copy of 'A Patient's Guide to Dental Implants' e-book. Created by Drs. Rob Eisen and Jerry Jesin, this e-book will help you understand the All-on-Four™ process before you come in for a free consultation. Simple and easy to read explanations, diagrams and real case examples will help you understand what our team can achieve for you.