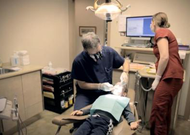 The measurements are done, the new teeth are created, and the dental implant team is ready to go.
The day has arrived for your new Permanent-Teeth-In-Day. But what exactly, can you as a patient expect on that particular day?
Let's take a look behind the scenes.
The entire All-on-Four™ dental implant team is on hand. Each person has their unique role, and the team as a whole is there to serve you.
If any natural teeth need to be removed, it will happen just prior to the All-on-Four™ dental implant procedure.
Titanium implants will be placed at precise locations (previously decided on) in your mouth. They are secured on an angle to ensure that your new teeth have an excellent fit.
A set of temporary teeth will be seated on the implants to mimic the placement of natural teeth. One of the benefits of All-on-Four™ dental implant process is that they can more closely replicate how natural teeth rest on the gums, as opposed to regular dentures.
And that ends your day!
Of course there will be some after care. You will be advised to drink only clear liquids for the remainder of the day. And of course, we'll provide you with prescriptions for pain medication and antibiotics as necessary. We might also recommend rinsing with antispetic mouthwashes or salt-water rinses.
Healing can take a few days. During this time, eat only soft foods and take extra care brushing your new teeth. You may experience some bruising which is normal and varies between patients.
But, you won't be alone. We'll be checking up on you, and want you back in the office a couple of times to make sure that you're healing nicely and that you are comfortable.
While the implants are healing within your gums, the denturist on the All-on-Four™ dental implant team will craft the permanent teeth which are crafted using stronger and longer lasting materials.
Once the new teeth are completed, you're back in for another visit where we put them in - and the next thing you know, you'll be smiling and enjoying your favourite foods with your comfortable new teeth!
For more information on Permanent Teeth-in-a-Day, contact the North York Smile Centre 1-866-365-4807 | 416-907-7997. Or click here to set up an appointment without picking up the phone.
Request a copy of 'A Patient's Guide to Dental Implants' e-book. Created by Drs. Rob Eisen and Jerry Jesin, this e-book will help you understand the All-on-Four™ process before you come in for a free consultation. Simple and easy to read explanations, diagrams and real case examples will help you understand what our team can achieve for you.