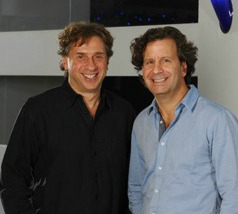 Last fall, during their second informational seminar on All-on-Four™ Dental Implants, Dr. Jerry Jesin, DDS (on the left) described his role as a dentist:
"When people come to our practice, it's because they have a problem and we see ourselves as problem solvers. That's what we really do, and we want to present solutions to our patients and show them how dental implants can solve a lot of oral problems whether they are missing just a few teeth, or all of their teeth. "
On Thursday, February 5th, Dr. Jerry Jesin, DDS and Dr. Rob Eisen, DDS of the North York Smile Centre will host their third informational seminar on All-on-Four Dental Implants, one of the many state-of-the-art services provided at their dental clinic.
Why dental implants? And what are All-on-Four Dental Implants?
50 years ago, dentistry introduced permanent tooth replacement, where the root of the tooth was recreated out of titanium. Titanium is said to have special properties that bonds with the bone in a patient's jaw just like a natural tooth root.
"It was a fantastic invention," stated Dr. Eisen. "It allowed us to screw teeth directly into these implants."
But there were problems.
Traditionally dental implants were installed tooth-by-tooth. It was difficult and expensive surgery combined with plenty of discomfort and pain. Not only did it require multiple surgeries, but a long healing process, temporary dentures or even worse, periods of time when a patient went without any teeth. And it was difficult to match each individual implant by colour and shape.
What made the All-on-Four implant system far superior than a single implant, is that with four titanium implants placed in the jaw bone an entire arch of teeth (either upper or lower) could be attached to the implants. The arch was so secure, it didn't require a palette.
The end result was a set a teeth that looked, felt and acted like a person's own set of natural teeth.
With the All-on-Four implant procedure, there is minimal pain and discomfort and the entire procedure is completed in one day, with a few follow-up appointments.
"It's all in the physics really" stated Dr. Eisen. "And because of the way the implants are designed, the teeth can be screwed into the implants in the same day."
You'll leave the seminar understanding:
The All-on-Four process - an overview
Age related issues such bone grafting.
Implant care and maintenance
Related costs
Dr. Jerry Jesin and Dr. Rob Eisen have been practicing dentistry for over 30 years. Among their numerous credits is completion of post-graduate programs in Esthetic Dentistry at the University of Buffalo.
Find out how Permanent Teeth-in-a-Day could easily transform your life.
On Thursday, February 5th, Dr. Rob Eisen and Dr. Jerry Jesin will host their third All-on-Four Dental Implants information seminar.
They will discuss this revolutionary advancement in implant dentistry. By the end of the seminar you will have a clear understanding of the options available to you and how All-on-Four dental implants can improve your life.
When you attend this absolutely FREE seminar:
You are NOT obligated to sign anything.
You will have ALL your questions answered.
You'll meet other patients who are considering the Permanent Teeth-in-a-Day procedure.
You'll hear from others already enjoying the procedure and ask them questions.
Don't hesitate to reserve your free seat.
You may be just one day away from living a more confident life!
SEMINAR DETAILS
Thursday, February 5th
Novotel Toronto North York, Duncan Room
3 Park Home Ave., North York, ON
SIGN UP ONLINE - WHEN CLICK HERE
416-730-8223 | contact@smile-by-design.ca