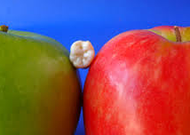 You have new dental implants, and you're thrilled! You want to enjoy the freedom that it affords you in eating and socializing.
One way to do that is to keep your mouth healthy and in top condition by making good nutrition a habit. There are many delicious foods that are good for us, and also good for oral health.
The following 5 tips will help you make smart choices for a healthy mouth.
Limit your intake of sugary drinks. You've heard it before, but it's important enough to bear repeating. The sugars in sodas create oral health havoc. They don't do gums any favours, rather they can cause bacteria build up on them. Even with a dental implant, sugary drinks including pop should be avoided.
Get a good amount of calcium. Calcium supports bone health, and even with a dental implant you still need to keep the bones in your mouth strong. After all, the implants are secured in bones that are located in the jaw. Good sources of calcium include fortified milk, plain yogurt, salmon and other oily fish, leafy greens and cheese.
Vitamin D assists calcium in its bone strengthening efforts. You'll find it in some fortified milks and juices, along with oily fish, eggs and beef liver.
Up your antioxidants. Foods that contain these chemicals, like vitamin C, fight cell damage that can occur in the mouth. Antioxidants counter any bacterial infection that might flare up, as well. You'll find antioxidants in many fruits and vegetables, including berries, beans and apples.
High fibre is good for your mouth, too. Foods with a lot of fibre are usually chewed more than foods lower in fibre. That chewing produces saliva, which keeps the mouth clean. The fibre brushes the teeth and gums to an extent, which helps keep them clean in between regular toothbrushings.
For more information on Permanent Teeth-in-a-Day, contact the North York Smile Centre 1-866-365-4807 | 416-907-7997. Or click here to set up an appointment without picking up the phone.
Request a copy of 'A Patient's Guide to Dental Implants' e-book. Created by Drs. Rob Eisen and Jerry Jesin, this e-book will help you understand the All-on-Four™ process before you come in for a free consultation. Simple and easy to read explanations, diagrams and real case examples will help you understand what our team can achieve for you.