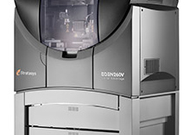 The process of creating All-on-Four™ dental implants involves some mighty impressive technology - at least we thought so. But now the dental world is taking steps towards even greater technology.
Are you familiar with 3-D printers? You might have seen stories about them recently, as they churn out everything from jewellery, to prosthetic limbs, to carbon fibre car parts. And now, even orthodontic appliances can be made with the help of these versatile machines.
The Stratasys company, a leader in the field, has introduced a 3-D printer for dental labs called the Objet Eden260V Dental Advantage 3-D Printer. This model is designed to be used in smaller orthodontic labs. It's about the same size as a regular paper copier, which means it fits into more compact dental labs and offices.
Dental professionals who previously didn't consider using a piece of technology like this can now add a 3-D copier to their tools. The machine can print, or make, almost any type of dental appliance.
Many dental offices already use technologically modern machinery for x-rays and imaging. The information and measurements from those machines can be linked to the 3-D printer, for better efficiency and accuracy.

The Dental Advantage 3-D Printer is advertised as being professional grade, easy to operate, and producing consistent results. The materials that are used to make the appliances come in closed cartridges, for extra efficiency.

It's amazing that a machine that looks like a regular paper copier can fashion top of the line dental appliances, right in a dental lab or office!
It's just the last new development in dental care and - we had to share.

For more information on Permanent Teeth-in-a-Day, contact the North York Smile Centre 1-866-365-4807 | 416-907-7997. Or click here to set up an appointment without picking up the phone.
Request a copy of 'A Patient's Guide to Dental Implants' e-book. Created by Drs. Rob Eisen and Jerry Jesin, this e-book will help you understand the All-on-Four™ process before you come in for a free consultation. Simple and easy to read explanations, diagrams and real case examples will help you understand what our team can achieve for you.